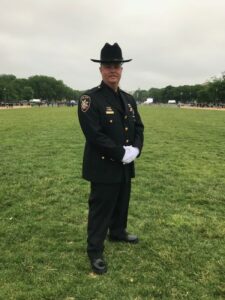 Undersheriff Passino has lived in Onondaga County his entire life, graduating from Liverpool Central School District in 1996. After graduating high school, he attended Onondaga Community College where he was recruited by the Onondaga County Sheriff's Office. On October 9th, 2000, Undersheriff Passino began his career as a Custody Deputy working in the Justice Center for the Onondaga County Sheriff's Office. Fourteen months later he transferred to the Sheriff's Police Department as a road patrol deputy.
During his career as a sheriff's police department member, he worked in the Sheriff's Traffic Unit conducting many investigations into fatal accidents with many involving impaired driving. In 2011 Undersheriff Passino was appointed as a Detective within the Onondaga County Sheriff's Office Criminal Investigation Division spending five years assigned to the Sheriff's Special Investigation Unit to include being assigned as a Task Force Officer for the United States Drug Enforcement Administration HIDTA drug task force.
In 2015 Undersheriff Passino was assigned to the Onondaga County Sheriff's Office Major Crimes Unit where he was the lead Detective on many major investigations to include robberies, burglaries, forgeries, sexual assaults and homicides. In 2019 Undersheriff Passino was assigned as the Sheriff's Office Pistol License Investigator where he conducted investigations into stolen firearms and background investigation for new pistol license applicants.
During his time as a police officer for the Sheriff's Office, Undersheriff Passino was elected as the 1st Vice President and then President of the Onondaga County Deputy Sheriffs' Police Association, the union that represents the more than 200 plus men and women of the Sheriff's Office Police Division.
Undersheriff Passino retired from the Onondaga County Sheriff's Office on January 18th, 2022, after 22 years of service. Undersheriff Passino was then hired by the Oswego County Sheriff's Office as a School Resource Officer at the Oswego City High School.
Undersheriff Passino has also attended more than forty law enforcement schools and trainings and is the proud recipient of many Law Enforcement accommodations and awards for outstanding police service. Undersheriff Passino currently lives in Clay, New York with his spouse of 23 years.