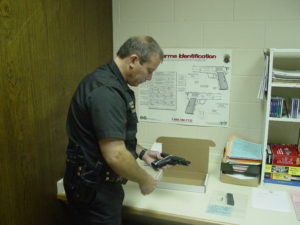 ***The Sheriff's Property Unit is currently allowing limited access. Due to ongoing COVID-19 concerns, we ask the public to please call 315-435-5450 to schedule an appointment to retrieve all property.***
This unit is responsible for receiving and preserving the integrity of all property and evidence recovered by Sheriff's personnel, in which the proper storage and maintenance of evidence is especially vital for successful criminal prosecutions.
Other duties include delivering evidence to the Center for Forensic Sciences for laboratory exams, conducting inventories, releasing property, sending unclaimed property to auction, turning over counterfeit currency to the Secret Service, disposal of property, annual destruction of firearms (requires release authorization for the Executive Department of the State Police in Albany), and an annual destruction of drugs (requires correspondence with the D.A.'s office and a court order issued by County Court).