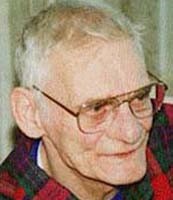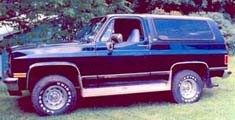 Missing since 4/2/1999 from Evans Mills, New York
DOB 1/18/1929
Height: 6'0"
Weight 168 LBS
Distinguishing Characteristics: Caucasian male. Gray hair, blue eyes. Pyke wears bifocal eyeglasses with wire frames. He has no teeth. He is bowlegged, his sternum has previously been fractured and his ring finger was previously broken at the first joint. Pyke has a scar on the bridge of his nose and a surgical scar on his abdomen.
Last seen wearing a red, green and blue plaid shirt over a maroon sweatshirt. Blue Rider jeans and brown Gobie boots.
Medical conditions: Pyke suffers from Alzheimer's Disease and dementia. He gets confused and easily lost as a result. He also has a heart condition for which he takes a prescription blood thinner. He tires easily and his hands shake as a result of his medical conditions.
Pyke was last seen at approximately 3 PM on April 2, 1999 in the victiniry of the 2000 block of State Route 11 in the Evans Mills, NY area. He stopped at a cousin's home, but didn't get out of the car. He had driven away from his home in the 4900 block of Aitchison Road to visit a relative in Watertown, NY. His family reported him missing two days later when he did not return. Pyke had previously left on short trips and come back on his own, which is why his loved ones did not report is disappearance immediately.
Pyke's vehicle, a dark blue 1989 Chevrolet Blazer with a black top, chrome diamond running boards, and New York license plates numbered FMS 867, which is also missing. It had a full tank of gasoline when Pyke drove away with it on the day of his disappearance.
Pyke had been married for 49 years prior to his disappearance. His wife died in 2012 and on of their sons is also deceased. Pyke did not have any money with him when he went missing and the only item inside the Blazer was his driver's license. Prior to his disappearance he had spoken of wanting to travel to Florida, but there is no evidence that he went there, and no evidence that he crossed the Canadian Border either.
If you have any information regarding this case please contact us