Our department has made many changes over the years. Our needs have changed along with the times, spurring growth and improvement. The following words and pictures describe the evolution of our department from the beginning in 1850.
Also, we have discovered other interesting historical items which we put into a photo album for you to see and enjoy. There are documents and pictures from the 1800's as well as excerpts from a biography produced in 1937. Click on the cover of the biography below to take a look and see where we've been.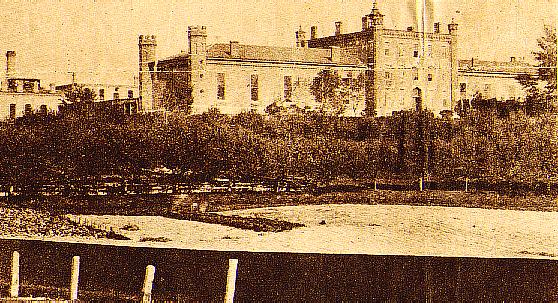 Previous to 1849, jail prisoners of Onondaga County were confined in cells connected with the County Courthouse. In 1850, this became inadequate and the first Onondaga County Penitentiary was built in the town of Salina. It contained 96 cells and cost $20,000. In 1869, a 64 cell addition was built and in 1875, the penitentiary was enlarged again.
On February 1, 1899 the Board of Supervisors proposed selling the penitentiary for $70,000 and erecting a new one on a different site. This was proposed because the old penitentiary had an inadequate number of cells and lacked the ability to segregate inmates. At this time, the average inmate population was 516 – with only 228 cells.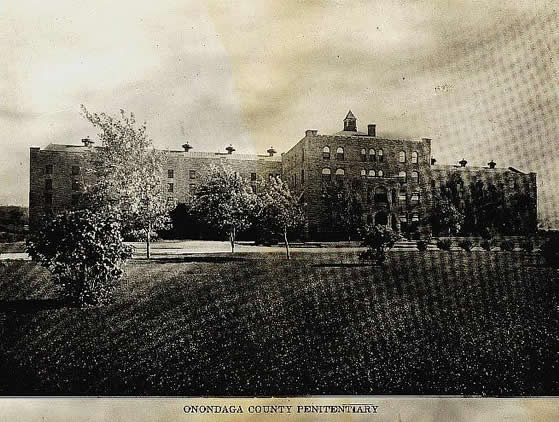 On June 9, 1899 a resolution was passed by the Board of Supervisors that the County purchase the Puffet farm in Jamesville, NY for a new penitentiary. The work on the main building began in the fall of 1899, and lasted through late summer of 1901 at a cost $211,000. On October 1, 1901, the penitentiary was completed and the transfer of inmates began at once. This building was used from 1901 to 1983, and demolished in 1999.
When this building became inadequate, the county elected to build a new Onondaga County Correction Facility on the site adjacent to the old facility. This facility was completed in June of 1983 with 192 rooms and a cost of $9.8 million.
Because of a federal court order from Judge Howard Munson for the downtown Public Safety Building overcrowding, an annex was built adding 114 rooms and cost $3.3 million. This was opened in April 1989 and occupied by both sentenced and unsentenced inmates. This building has since been demolished.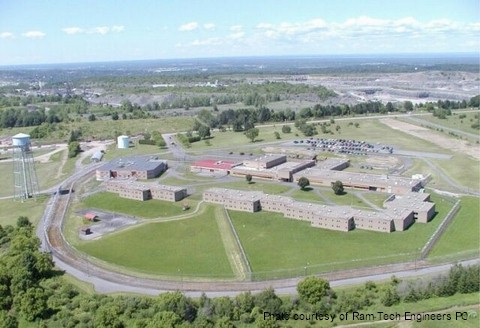 In early 1993, a dormitory style housing unit was added to house 72 inmates. This is a community style living unit. Sleeping quarters (called cubicles) are arranged together in one area of the housing unit or around a common day room area. Inmates carry out their daily activities in the day room area and have community toilet and shower facilities.
Our newest building, a 180-bed facility opened in December 1999 and was constructed at a cost of $4.6 million. There are three housing units within this facility that hold 60 inmates in each unit. Two of the housing units are dormitory style and and the third has thirty double occupancy cells.
Three existing housing units were renovated in the spring of 2000. The renovations cost approximately $1.6 million. With this renovation and current variances, our maximum capacity limit is 515 inmates.
The average daily population in the year 2002 was 371 inmates.