Chief Custody Deputy Esteban M. Gonzalez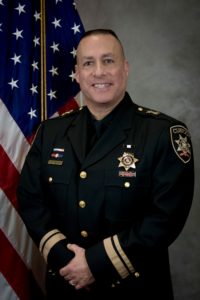 Esteban M. Gonzalez, Certified Jail Manager (CJM), Certified Correctional Trainer (CCT), Certified Correctional Health Professional (CCHP) is the Chief Custody Deputy for the Onondaga County Sheriff's Office in Syracuse, New York where he has been employed since August 1994. Esteban has served in many roles within the agency including General Housing, Classification, Emergency Response Team Supervisor, Training Commander and the Support Services Division Commander.   He was appointed Chief Deputy in December 2012 and is responsible for the management of the Justice Center, a 671 bed Direct Supervision correctional facility with a staff of approximately 290. Additionally, he is a Past President of the American Jail Association (AJA) and is also a certified Master Instructor for the NYS Division of Criminal Justice Services. He is a national corrections training consultant on the topics of jail management and operations, executive leadership, succession planning, programming, direct supervision and transition training. He has provided curriculum review for the National Institute of Corrections, is the author of numerous articles published in the Corrections Managers Report, American Jails magazine and appeared in the Wall Street Journal and on Fox News in 2013 regarding U.S. jails becoming the largest mental health institutions in the nation. In January 2014, he testified before the Congressional Prison Rape Elimination Act (PREA) Review Panel, to provide a national perspective on sexual victimization in jails. He was invited to address the first Canadian Direct Supervision Symposium in Toronto, Ontario during April 2014. Gonzalez is a Bachelor of Arts graduate from Columbia College. Beyond the world of corrections, he is a certified trainer for Dale Carnegie of Central New York, a franchise of Dale Carnegie and Associates, Inc., a global training and development corporation with 103 years in business and international offices in over 80 countries worldwide. He has instructed hundreds of students from more than 80 CNY organizations, representing dozens of professions. He has served his national, state and local communities as a member of the Board of Directors of the American Jail Association, Leadership Greater Syracuse and Access CNY, and by singing the national anthem at the NYS Special Olympics Winter Games, the NYS Association of Chiefs of Police Training Conference, the NYS Police Officers Memorial Remembrance Ceremony and at the NYS Fair for Law Enforcement Day. From 1987 to 1993, he served in the US Army National Guard, assigned to the 1st/108th Infantry Battalion. Esteban lives in Baldwinsville, New York with his wife and children.
Our Mission
The Mission of the Onondaga County Sheriff's Office Custody Department, a county correctional law enforcement organization, is to ensure public safety for the citizens of Onondaga County by providing premier and cost-effective prisoner custody, security and transportation services. We will maintain the confidence that the public has placed upon us by developing a safe and secure community, through having a positive impact on the persons we detain while maintaining a humane environment at the Patrick J. Corbett Justice Center.