Chief Civil Deputy Susan C. DeMari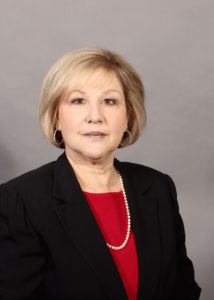 Susan C. DeMari holds a Juris Doctor from Syracuse University College of Law and is a licensed attorney that recently served as a Senior Attorney Advisor/Adjudicator for the United States Social Security Administration, Office of Hearings Operations. Prior to joining the Onondaga County Sheriff's Office, Chief DeMari developed an extensive partnership working with the law enforcement community in Onondaga County beginning in 2000.  She has served as a member of the board of Police Commissioners for the Town of DeWitt Police Department and continues to serve as the security liaison for the Jewish Federation of Central New York.  This past year, Chief DeMari began replicating her efforts in community security with the Buffalo Jewish Federation.
Throughout Chief DeMari's career she has received recognition for her dedication and commitment to improving and fostering relationships between law enforcement and the community.  Select achievements include receiving the FBI Director's Community Leadership Award and the Albany FBI Field Office Local Award for Community Service (2019).  Chief DeMari has received the Onondaga County District Attorney's Community Service Award (2018) and the New York State Police Centennial Award for Dedication and Participation (2017).  In collaboration with the FBI, New York State Police, Onondaga County Sheriff's Office and the Town of DeWitt Police Department for Outstanding Service, the Jewish Community Center of Syracuse bestowed a Kovod Gadol (highest honor) Award to Chief DeMari (2018).  In addition to other community and leadership awards, Chief DeMari was also the recipient of the Outstanding Service to the Community from the Town of DeWitt Police Department.
As the Civil Chief of the Onondaga County Sheriff's Office, Chief DeMari is responsible for the management and supervision of the Civil Department and the Administrative Division.
Our Mission
The Mission of the Onondaga County Sheriff's Office Civil Department is to exercise its responsibilities to professionally receive, serve and execute all civil process and orders that have been issued by a legal authority in a reasonable and timely manner while maintaining an impartial stance between all parties having an interest in a case.
THE CIVIL DEPARTMENTS OFFICE HOURS ARE MONDAY – FRIDAY FROM  8:00 AM – 5:00 PM