| | | |
| --- | --- | --- |
| | In the Line of Duty Deaths | |
February 11th, 1987 Deputy David Clark
Brief:
Custody Deputy David Clark was fatally shot by inmate William "Billy" Blake during a failed escape attempt during a prisoner transport detail at the Dewitt Town Hall. Deputy Bernard Meleski was also seriously wounded during the escape attempt. Deputy Clark was the first Onondaga County Sheriff Deputy on record to lose his life in the line of duty.
At approximately 9:00 PM on Feb. 10th, 1987 Onondaga County Sheriff Deputies David Clark and Bernard Meleski were escorting prisoners from jail to the local town of Dewitt court for resentencing. Events unfolded as the detail entered the courtroom entrance way. One of the three jointly handcuffed prisoners, William Blake Jr., Age 23, used his one free hand to abscond the holstered service revolver from the leading escort Deputy Meleski. Blake opened fired on the Deputies, seriously wounding Deputy Meleski and mortally wounding Deputy Clark. After an unsuccessful attempt to shoot his way free from his handcuffs, Blake made his way to the courthouse parking lot where he was apprehended by Sheriff Deputies. Deputy Clark died about 3 hours later on Feb. 11th.
David Clark was 33 years old. He was survived by his wife and 2 sons.
David Clark is buried in Assumption Cemetery in the City of Syracuse.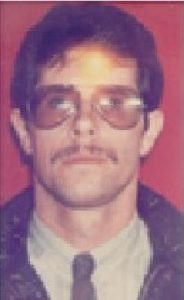 David Clark
November 29th, 2003 Deputy Glenn M. Searles
Brief:
On November 29, 2003 Onondaga County Sheriff Deputy Glenn Searles was killed by a passing vehicle during a disabled vehicle call on Route 481 T/Dewitt. The incident was one of two similar incidents that led to the New York State's "Ambrose-Searles" Move-over-law signed in January 2011. The law was named for New York State Trooper Robert W. Ambrose and Deputy Glenn M. Searles.
At about 7:00 PM Kristine Bell, a wife and mother of two children, was on her way home from work, traveling southbound on Rt. 481, near Kirkville Rd. when her vehicle slid off the snow & ice covered road into the center median. A Town of Dewitt Police Officer was dispatched to the call of the disabled vehicle. Dep. Glenn Searles, working uniform patrol, cancelled the Dewitt Officer and responded to the call.
Upon positioning his patrol vehicle on the inside edge of the road, and after activating his emergency lights, Dep. Searles exited his vehicle, opened his vehicle trunk, where his flares and reflective traffic vest were located, and went to the rear of his vehicle. The driver of a passing vehicle failed to anticipate & recognize the hazardous conditions and entered the scene with imprudent speed, and within the lane adjacent to Dep. Searles position. The driver lost control of his vehicle, and struck Dep. Searles and his patrol vehicle. The five passengers of the passing vehicle were injured, and Dep. Searles suffered fatal injuries as a result of the crash.
Reflecting upon the crash, Kristine Bell would later state… "He lost his life trying to help me, and he didn't even know who I was…"
Glenn was 31 years old. He had 2 years of service with the Sheriff's Office. He was survived by his fiancée.
Glenn Searles is buried in Greenlawn Cemetery in the Town of Camillus.