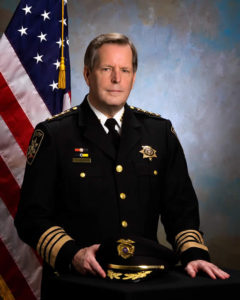 Eugene Conway began his law enforcement career with the Village of North Syracuse Police Department in 1977.
In 1978 he joined the Onondaga County Sheriff's Office and served with them for the next 24 years where he worked through the ranks from Deputy Sheriff to Captain of Criminal Investigations. During his service he was assigned as a narcotics investigator to the Special Investigations Unit, supervisor of the Warrants Investigation Unit, and Road Patrol Watch Commander. In his capacity as the Captain of Criminal Investigations he oversaw all investigative Units within the Sheriff's Office to include two presidential details and a serial bank robbery task force. In April 2002 he accepted an offer to become the Chief of Police and Public Safety for the Town of DeWitt Police Department. In 2007 he also served in a temporary capacity as the Chief of Police for the Village of East Syracuse Police Department.
In 2015 he became the 61st Sheriff to serve the Onondaga County Sheriff's Office.
He holds a Bachelors Degree in Public Justice from the State University of New York at Oswego, and has completed training with the United States Secret Service, United States Marshal's Service and the United States Department of Justice Drug Enforcement Administration. Sheriff Conway is a member of numerous professional organizations to include the International Association of Chiefs of Police and the New York State Association of Chiefs of Police. He has also served as a member of the Board of Directors of the Central New York Association of Chiefs of Police and as Chairman of the Onondaga County Chiefs of Police.
Sheriff Conway has served his community through his career in law enforcement with organizations that include the Rape Crisis Center, Vera House, District Attorneys Advisory Council, and the McMahon Ryan Child Advocacy Center. A lifelong resident of Onondaga County, he is married and has two children.