Chief Police Deputy Matthew Fischer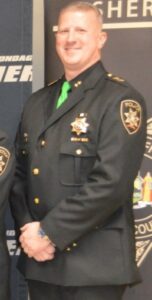 Matt Fischer is a life-long resident of Onondaga County. He joined the Onondaga County Sheriff's Office Police Division in July of 2002 and recently retired from the Sheriff's Office in November, 2022. He spent the first half of his career as a Deputy assigned to Road Patrol; developing detailed knowledge of every neighborhood the Onondaga County Sheriff's Office patrols. Early in his career, he became a Field Training Officer. As a Field Training Officer, he trained newly-hired deputies upon their release from the police academy. He was also a recipient of the Sheriff's Office Certificate of Merit Award for de-escalating a suicidal subject and preventing that person's attempted suicide. In 2013, he was promoted to sergeant and served in a supervisory role on Road Patrol for the duration of his career. As a sergeant, he held supervisory roles in several ancillary areas, including Public Order, Emergency Management, and the Field Training Program. As a Field Training Supervisor, he trained newly-promoted sergeants and also supervised the field training of newly-hired deputies. He also held a leadership role in the Onondaga County Sheriff's Police Association from 2019-2022; serving as the Secretary and 1st Vice President. Throughout his career, he has worked with, worked for, or supervised every current member of the Sheriff's Office.
 Chief Fischer is responsible for the management and supervision of the Police Department, which consist of the Road Patrol, Criminal Investigations and Special Enforcement areas of the Onondaga County Sheriff's Office.
Our Mission
It is the Mission of the Onondaga County Sheriff's Office Police Department to provide the citizens of Onondaga County a full service professional law enforcement agency to protect life and property, reduce the opportunity for crime and disorder, enforce all laws, assist victims and provide other police-related services as required by the community. The daily focus of the Police Department is to successfully execute our law enforcement operations with compassion and courage, holding ourselves and each other accountable for our actions at all times, with the goal to provide the highest level of Police service to safeguard the community.