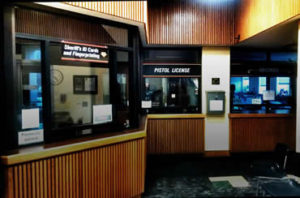 This unit processes all Identification Cards issued by the Sheriff's Office, issues I.D. cards and maintains database of E.M.S., Fire police and fire department personnel in Onondaga County, it also processes fingerprinting for arrest on appearance tickets.
Sheriff's I.D. Cards
You can obtain a Sheriff's I.D. at the Identification Unit located at the Sheriff's Headquarters Building, 407 South State Street, Syracuse, New York.
Hours:
Monday through Friday 8:00 am to 3:30 pm
These hours Do Not effect sex offenders, parolees, DNA, or any arrests needed to be fingerprinted.
Fees: * subject to change
Acceptable payment methods are Cash, Mastercard, or VISA.
New or Replacement Sheriff's ID………….$ 15.00
Update or Change Information……………..$ 8.00
(You must surrender your old ID card.)
Necessary Documentation:
You must have of the following documentation with you to obtain a Sheriff's ID card: (Photocopies of any documentation will NOT be accepted.)
Original Birth Certificate or a certified copy of the Birth Certificate
and
Social Security card (must be actual card, a copy is not acceptable) or Social Security number print-out from Social Security Office, stamped and signed.
and
Photo ID or two (2) of the following:
* Medicaid or DSS Card
* Temporary Driver's License
* Naturalization Certificate
* Green Card
* Passport
* I-94 Form
* Military Discharge Papers (DD214)
* Payroll Stub
* Health Insurance Card
* Utility bill, Hospital bill or Doctor bill
Marriage License for persons using a married name.
*Sheriff's I.D. cards are valid for 5 years from the issuance date*
WARNING: Making false statements is punishable as a Class A Misdemeanor, pursuant to Section 210.45 of the New York State Penal Law.